Prasat Beng Mealea
Prasat Beng Mealea, (meaning "lotus pond") is an out of the way temple situated roughly 60 km North East of Siem Reap. It was built in the same style and around the same time as Angkor Wat.
Some people even say it was the prototype for the great Angkor Wat. A better story is that Angkor Wat was the main city temple and Beng Mealea was the royal retreat in the cooler climate near the sacred mountains.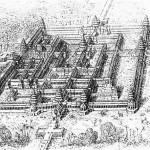 If you compare Louie Delaporte's sketch of Beng Mealea at left to a picture at right of Angkor Wat you can clearly see the resemblance.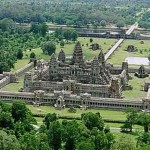 Whatever the reason for its construction, what we do know is, Beng Mealea is huge, almost a kilometer square.
It was one of the last major temples to be rediscovered.
Due to it's out of the way location it is still only lightly visited by the hoards of tourists that flock to Siem Reap every year to gaze in wonder at the mighty Angkor Wat and all the other surrounding temples in the Angkor Archeological Park.
If you ever wondered what Angkor Wat might have looked like when it was first discovered overgrown by jungle a hundred and fifty years ago, then go to Prasat Beng Mealea. Some of the jungle vegetation has been cleared from inside the temple walls but it still remains serenely nestled in its jungle surroundings, which makes it picture perfect for some great photo shots. Whilst Angkor Wat and a number of other main temples near Siem Reap have had major restoration work done on them, Beng Mealea has been left mostly as it was found.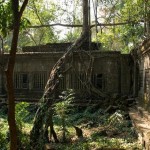 Concessions have been made for the tourists that take the time to visit this gem in the jungle. Several little restaurants and toilet blocks have been set up just outside the complex, and wooden steps and raised walkways have been constructed inside to make getting around the site easier. The walkways were also used when making a few movies at this location. Wooden ladders were installed from the walkways down to ground so you can explore all around down below. To see it all you would have to do a bit of climbing as there are some parts that can only be reached by climbing over fallen masonry.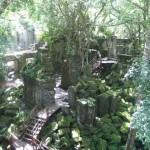 Some areas of the complex are restricted to tourists. This aids in preserving some fragile sections and keeps people away from some sections that may be a bit unsafe. Like at Ta Prohm and some other sites there is a small group of official guides/guards at Beng Mealea who are more than willing to show you around. If you do get one of them to show you around, a couple of dollars in appreciation would go a long way to help them on their meager wage. It will be a few dollars well spent as these guys know all the easy ways around the site and where the best spots are to see things that most people totally miss.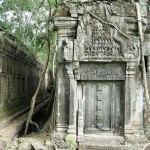 A return trip by Tuk-Tuk from Siem Reap to Prasat Beng Mealea takes 1 hour 45 minutes each way at a total cost of about $35 – $40 (seasonal). If you are on your own, grab one or two other interested travelers and share the costs around. For 2 people that would only be around $20 each. You will have to pay a $5 entrance fee when you get there as the normal Angkor Temple Pass for all the other temples near Siem Reap is not valid out here.
If you really want to do the Indiana Jones thing; or just see a truly spectacular site; or have bragging rights to seeing something most others miss, head out to Beng Mealea for a truly great day out.
For details of more temples like Beng Mealea, see my Tours Page.